About Showing
Showing is one of the most important aspects of Eqcetera game play. Showing is a way to make money, increase horses level via points, and player showing experience. Unupgraded players can enter 5 days a day while upgraded players can enter 10. Show run at 12AM each day.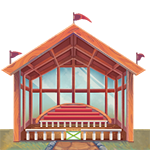 Disciplines
Eqcetera is home to 13 disciplines and growing. There are 3 skills that contribute to excelling in each discipline. Below in the table from to to bottom is the primary stat, secondary stat, tertiary stat. It is important to excel in all three stats to perform well.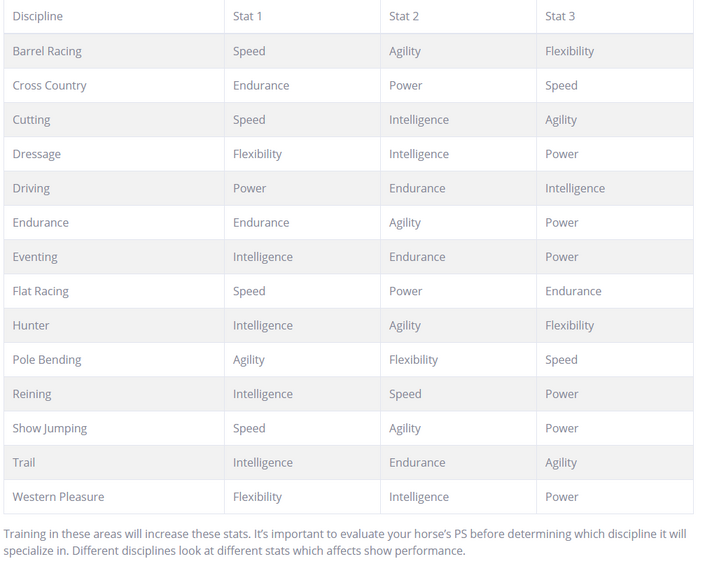 Entering
To enter your horse in shows you must first have selected their disciplines. Once horses have discipline st they must also be fed and watered. Once all of this is done the "Show" button in the top right of your horses page will turn blue. Clicking "Show" will take you to the show page where you can select shows to enter.
Winnings and Points
Show winnings and points are divided up based on how many horses are entered in a show. Winnings and points are divided up based on placement. Horses earn you 1 EXP per horse they beat in a show, placing 5th out of 10 earns you 5 EXP. Horses earn points based on a scale system, again, the more horses you beat the better!
Lifetime Earnings and Results
You can view lifetime show earnings, winnings, and placements by scrolling down your horses page. Here you can see how well your horse has performed in shows and how much they earned in each show.
What Are Ranks?
Horse ranks are determined by horse PS. PS is earned through training your horse.
To advance to the next ranking, it will need 3 of the main discipline stats to add up to a number.
The rankings are as follows:
What Are Levels?
To advance your horse from Foundation to Local, the horse must have 150 at least added up for the three main stats of their chosen discipline. Horse level is determined by how many show points your horse has earned. The more points your horse has the higher their level! You can check your horses level on their page in the right column. Higher level horses have a training boost that gives a chance to increase the points gained in training.
Showing Help
To more easily enter shows players can purchase the "Enter All" button which enters their horses in their max shows. The button is used per horse and speeds up player time devoted to showing by removing the need to click more than once! 
Community content is available under
CC-BY-SA
unless otherwise noted.