There are different ways to train depending on if your horse is stabled somewhere that has the training equipment for basics and premiums alike.
When it hits Sunday at 12:00AM gametime, you can train horses 5 times all again, and unlike v1, you have to do this manually.
Community Training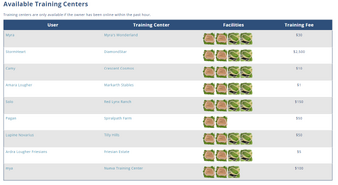 Community training, located in the World area, is a place where anyone can train their horses for a set fee for those who were recently online. You can choose which place to train your horses and your horses do not need to be boarded at the stables listed to use the training centers. Click on the link under the Training Center column (not the User) to train your horses.
This can be used for both Basics and Premium users regardless of horses being boarded or not.
Boarded Training

When your horse has the correct training facilities at the stables it is boarded at, you can open up horse's page and train it from there. The game will tell you if you cannot train again as well as how many times a horse has been trained already. In the picture, mine says it's already trained 5 times so I cannot do it again until next week rollover.
This allows you to speed train down the list of your stable by using "previous horse" and "next horse" links since it goes by ID numbers (at the time of this being written).
You can also open up horse's page in tabs, similar to showing if your computer can handle it, and train away.
Community content is available under
CC-BY-SA
unless otherwise noted.